EURETINA Lecture to highlight the unique knowledge and skills carried by oncoVR surgeons and their contributions for improving the care of patients with intraocular tumours
Vitreoretinal surgery has an essential role in the diagnosis and management of intraocular tumours. In his EURETINA Lecture entitled "OncoVR – A new subspecialty", Dr Bertil Damato, MD, PhD, will explain why these procedures are best performed by vitreoretinal surgeons who have special expertise in ocular oncology. In addition to sharing information about the subspecialty he pioneered, Dr Damato hopes that his presentation will inspire some retina specialists to gain the knowledge, skills, and experience to become an oncoVR subspecialist.
He said, "Patients with ocular tumours are more likely to have a better outcome if one or two oncoVR surgeons are part of an oncology service's multidisciplinary team. It would be wonderful if my presentation leads others to pursue this field. Although I am sure they will find it challenging, I am certain that they will also find oncoVR is a highly rewarding subspecialty."
In the first part of his talk, Dr Damato will discuss the importance of tumour biopsy in the diagnosis and prognosis of various intraocular tumours and approaches used by an oncoVR surgeon to minimise risk and optimise effectiveness.
"For example, because trans-retinal tumour biopsy inevitably results in a retinal hole, most retinal surgeons would follow standard vitreoretinal principles and perform total vitrectomy, endolaser retinopexy and gas tamponade to prevent retinal detachment. In contrast, an oncoVR surgeon would omit all these procedures, knowing that retinal detachment is very rare after transretinal tumour biopsy."
Dr Damato will also describe the multiple issues that must be considered when performing vitreous biopsy to differentiate vitreoretinal lymphoma from uveitis and why the requirements, which are critical for success, are more likely to be met if the procedure is done by an expert oncoVR surgeon.
The second part of Dr Damato's lecture will focus on the unique contributions that an oncoVR surgeon makes to treatment of patients with intraocular tumours.
In this segment, he will describe the endoresection technique he developed for surgically removing choroidal melanomas adjacent to the optic nerve and its benefit as an alternative to radiation.
"Radiotherapy of these melanomas inevitably leads to severe visual loss from radiation-induced optic neuropathy. Endoresection avoids this complication, but it is not without risks, such as fatal gas embolism, and therefore it is best performed by a skilled oncoVR surgeon," Dr Damato said.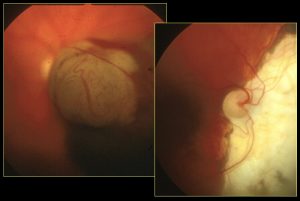 As other examples, Dr Damato will discuss an approach he developed with colleagues at the University of California, San Francisco to improve outcomes of systemic chemotherapy given to patients with vitreoretinal lymphoma.
Concluding his lecture, Dr Damato will discuss how the expertise of an oncoVR surgeon enhances the prevention and management of complications and side effects resulting from other forms of eye-conserving treatment, such as rhegmatogenous retinal detachment after exoresection and toxic tumour syndrome after radiotherapy of choroidal melanoma.
Professor Damato will deliver the EURETINA Lecture at 16:20 on Thursday 5 October 2023 in the Grand Auditorium.